Leon Bakst
Portrait of Alexandra


Diego Rivera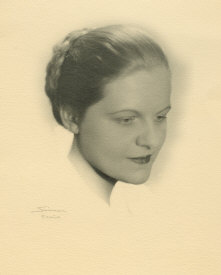 Alexandra's portrait by R. Vishniae (Wishniak)



M.Larionov
Portrait of Alexandra, 1948

In the Manhatten studio, 1943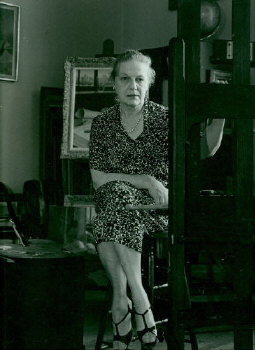 In the Manhatten studio, late 1970s
B I O G R A P H Y
Alexandra Pregel was born on December 15, 1907 in Helsinki, Finland, where her parents lived in political exile from the Czarist régime in Russia. After the Revolution of 1917, the family returned to Russia and her father, Nikolai Avksentev, became Minister of the Interior in the Kerensky government.
When the Bolsheviks took over political power, Alexandra left Russia, this time for good, with her mother Maria and stepfather Mikhail Tseitlin. Mikhail Tsetlin, Maria's second husband, was an author, a poet, a translator and a publisher. He was a leading member of the intellectual Russian elite in exile. Their home in Paris was a gathering place for all of "Russian Paris"—politicians, writers, and artists like Leon Bakst, Natalia Gontcharova , Mikhail Larionov, Marevna and others. This level of Russian talent attracted the Montparnasse bohemians--Diego Rivera, Amadeo Modigliani, Pablo Picasso and Émile Antoine Bourdelle, who were often guests in the Tsetlin home, giving young Alexandra an opportunity to absorb influences of the emerging genres in her formative years. (1)
In 1921, Alexandra was accepted into the Montparnasse studio of the Russian neo-classic artists Vasil Shukhaev and Aleksandr Yakovlev. In 1928, Alexandra graduated from the Ecole Nationale Superieure des Arts Decoratifs and continued her studies with Natalia Gontcharova, one of the leaders of the Russian Avant-Garde, a well known theater designer, and an artist with an international reputation. Alexandra and the famous artist became close friends, and their friendship continued until Goncharova's death in 1962. (2)
In 1932, Alexandra participated for the first time in a group exhibition of young Parisian artists, using her maiden name Avksentev (Avxente). From 1933 to 1940 she exhibited regularly in many group shows. In 1938 her own exhibition was held at the Gallery de L'Elysee, Paris.
In 1937 Alexandra married Boris Pregel, a scientist working in the field of radioactive materials. Following her marriage, she signed her paintings with A. Pregel. During World War II, Mrs. Pregel together with her husband, became actively involved with the organization of the Friends of the French Republic and with the French Red Cross. The couple fled Paris in June 1940, on the very day that the German army occupied the city. Their apartment had been confiscated. Among the things lost were over 300 of Alexandra's paintings and drawings. Alexandra and Boris settled in New York, in a Manhattan apartment overlooking Central Park, which had also become Alexandra's studio.
In 1943 Alexandra Pregel had her first exhibition in the United States. Thirty-six paintings, the fruits of her first three years of painting in the U. S., were shown at the New School for Social Research in New York. Here are some comments from critics:
"She gives beauty to humble things…"
- The New York Times, Sunday, Oct 31, 1943

"Miss Pregel's style echoes rumblings of the impressionists and post-impressionists. She creates an interesting adventure in Americana. The most impressive feature of her work is the simplicity of the compositions, executed with refined tonal qualities and with even brush strokes."
- The Art Digest, Oct. 15, 1943.
In 1944 Alexandra Pregel was accepted as a member of the American National Association of Women Artists. In the years to follow, she took part in annual exhibitions in New York and around the country. In 1948 she participated, along with known artists such as Georgia O'Keefe and Salvador Dali, in the "Painting in the United States" exhibition, which took place at the Carnegie Institute in Pittsburgh.
In 1947 she had her first post-war exhibition in Paris, at the Gallery de L'Elysee. In the years to follow, Alexandra Pregel took part in annual exhibitions at the Milch Gallery, Wildenstein Gallery, and the National Academy of Design.
Alexandra Pregel had diverse artistic interests. She was deeply involved in the cultural activities of the émigré Russian community in New York. She used her skills as a graphic artist to design two Russian émigré literary journals--Novosel'e and Novyi Zhurnal; she also illustrated a medieval Russian literary work that was inspired by the miniatures of old Russian manuscripts. (3) Her illustrations of the Old Testament can be found in the Jerusalem University Library, and a Passover Hagada with illustrations by Alexandra Pregel was published in Israel in 1965. (4)
After the death of her husband, Boris Pregel, the artist nearly stopped painting and participating in exhibitions. Alexandra Pregel died on May 28, 1984, and was buried in New York.
Alexandra Pregel's paintings are owned by several museums around the world and held in private collections. Since the artist's death, there several exhibitions (link) of her works--paintings and water colors—took place in the United States, Israel and Russia.
Notes:
Nadezhda Vinokur, "Albom Marii Samoilovny Tsetlin", p.52-67 Nashe Nasledie, 72, 2004]
J. Gauchman, "Uchitel' i uchenitsa", p.116-129 Nashe Nasledie,57, 2001 ( "Teacher and student", pp.116-129, National Art Magazine Our Heritage, 57, 2001, Moscow, Russia)
"La Geste du Prince Igor". Epoppe Russe du Douzieme Siecle. The oriental and Slavic Philology and History Institute, New York, 1948
Haggadah, The Passover Service, Israel, 1965
For additional information on the life and art of Alexandra Pregel, please contact Julia Gauchman .