Graflex Cameras: If you are not familiar with the different camera designs made by Graflex, you may want to visit this gallery.

Graflex Back Primer: Graflex designed and manufactured three basic types of back systems.
The Graflex back, found on most early reflex cameras, but also found on Speed Graphics and Graphic View cameras. The ones on Graphic Views could be removed and rotated; they were designed to allow the use of Graflex rollholders.
.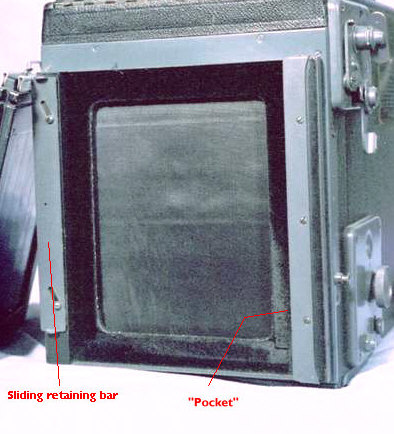 The Graphic or 'spring' back was found on early Graphic 'press' and Graphic View cameras. It allowed ground glass viewing, enhanced by a folding hood that fit into the cast metal, spring mounted frame that held film holders. The hood could be removed, but not the film holder frame, limiting it to cut film, Grafmatic and film pack holders or non-Graflex/Graphic rollholders that could be slipped into the gape of this back.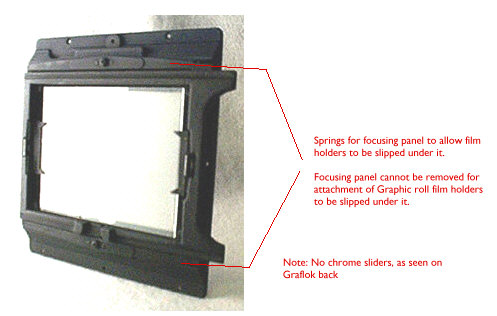 The latest type of back is the Graflok, in which the viewing frame could be removed entirely, allowing for rollfilm and Polaroid backs to be attached. These will always have chrome sliders to grip rollholders and chrome spring levers to allow for insertion of cut film holders with the frame on the camera.